Residenzen
Özlem Alkis
24. Juli bis 6. August 2017 
Özlem Alkis creates transdisciplinary formats and present her works in various mediums; stage, installation and video. She was born in Istanbul and lives now in Cologne. She is one of the co-founders of the Amber Art and Technology Festival in Istanbul, which she also co-directed until 2012. In 2012, she directed Istanbul edition of Special Issue European Project that encourages developing discoursive practices in Performing Arts. In September 2015, with other artists she founded ehrenfeldstudios e.V., Cologne.
"I am interested in creating trans-disciplinary formats in which my understanding of movement and dance would evolve in unforeseen directions through these collaborations. For that reason, I choose my partners for each piece according the necessities of each topic. Our exchange starts with getting to know each other's practices and sharing each other's methods.
I find it important working with the same group of dancers, so that our shared history in building common praxis and language for each piece could be developed further (accumulate) in dancers' body. In doing so, we can understand better what kind of knowledge that each mover carries in her own history and develop strategies through.
Building shared history (building praxis and language) helps me to recognize what do we know "doing" and what we do not yet know. "The unknown" makes me excited. Something that is not yet imagined, something that cannot be imagined. Something that appears only through shared process of praxis through the conscious and unconscious exchanges between participating (collaborating) artists. 
This is why I am interested to create zones of "unknown" that are also "unstable" during the rehearsal processes that one can question further one's own understanding of dance, movement and aesthetics. I could say that this is beginning of composition; to shift and slightly alter what do we already know about the things." (Özlem Alkis) 
Rhiannon Morgan & Andra Rama
18. bis 24. Juni 2017 
Rhiannon Morgan completed her studies at the age of 17 in the Conservatory for Music and Dance of Luxembourg. She sings and play violin. She graduated with a BA from The Rambert School Of Dance and later on completed her Masters degree at London Contemporary Dance School (2009/2010), The Place (UK). As a professional dancer she collaborated with Akram Khan (2012), Cocoon Dance Company(2010/2012),
Henri Oguike Dance Company ( 2011-2013), Nicholas Vladyslav (2013), National Theatre of Northern Greece (2013/2015) and Anu Sistonen (since 2011/2016) to name a few. For the last 6 years she has been teaching workshops all over Europe and has been collaborating with Andrea Rama in several on going projects as well as assisting him during various workshops and classes for professional dancers.
Andreas Rama has graduated from the State School of Contemporary Dance in Athens (GR). He's co-founders of Porson's Khashoggi since 2010. The company works intensively with the dimension of time as a fundamental element of movement. The audience is invited to participate in rapid journeys and slow travels around the performance. P.K. creation's has been presented in Germany, Luxembourg, France, Italy, Poland, Greece & China. Andrea colaborated with contemporary dance artists & theater directors such as Sasha Waltz & Guests (since2013), Anton Lachky(2011), Fang-Yu Shen (2014), MS Schittmacher(2015), Roes Dance Theater (2009), K. Rigo (2008), Antzela Brouskou (2011), Gianni Kaklea (2012) to name a few. In 2014 Wim Vandekeybus invited him for research process. He's teaching at Dance Companies/ Institutions as National Choreographic Center of Luxembourg, Henny Jurriëns Foundation (NE), Tanzfabrik Berlin, Marameo Berlin, Die Etage, Seneca Intensiv, State Theater Heidelberg, Equilibrio Dinamico (IT), TanzBüro Basel, Centrum Kultury Lublinie & Szczecin (PL), Austria, Aktina Prof School of Dance (GR), Minsheng Contemporary Museum (China), ZKM Museum of Media Art (DE), HFG University of Media Arts (DE)  a.o. Short Description
Project "3,14π" proposes a new and developed idea of Dance through Running. Starting from the notion that to Run is a natural thing which also holds a potential to be developed as movement in general. Run, as a simple every day movement which would result in a direct impact with the audience. A movement that is familiar to each of us. The process of a circular Run in an anti-clockwise direction imitates the set up of races. Our observation is that our minds tend to interpret that "run moves right to left", so we perceive right to left movements (as viewers) as more natural and assimilate easier with our eyes/minds. How direct and simple can the impact of a Running process be in terms of human participation and observation? A process that requires a full body presence. Creating a certain tone and rhythm that colours the actual space and the ways we relate to self, the other and to the rest of the environments. A process of building our rhythms as second by second/minute by minute we organise an addictive ritual that opens all possible pathways. The varying textures and density in each footprint as the sole of the foot comes into contact and leaves the ground tracing a sound signature with steps and breaths. Our breaths and steps becomes the physical soundtrack. What can we build emphasise/ develop and challenge with the sounds of our bodies?
No matter our speed, style or where we start, we end up in a place where we still will be running. Adapting, staying flexible and merging all sources of inner or outer input, "3,14π" proposes an investigation in equal terms of physical condition/precision of movement vocabulary which by reacting/listening awareness creates a strong kinaesthetic impact. Everything we do through running inspires, guides and reminds us how vital it is to be active, each decision a responsibility for the environment we wish to create/inhabit. The environment/space of the run and its ability to connect us all directly to the sense of freedom it generates as we Live, Work and Run as part of the Global Community.
Showing 24.06., 18:00 Uhr, Tapetenfabrik
Tian Rotteveel                               
HEARTCORE                                                          
in Kooperation mit ZAIK Köln                            
vom 10. bis 17. Dezember 2015         
HEARTCORE ist ein performativer Forschungsraum für den körperlichen Ausdruck menschlichen Klangs: die Vorbereitung, Ausführung und der Nachhall von Lauten im Körper. Die Performer_innen schlagen einen Klangpfad ein, folgen eigenartiger Musik und eignen sich auf ihrem Weg Fantasiesprachen und klingende Mantras an. Zwischen aktivem Zuhören und dem Erzeugen von Live-Musik orientieren sie sich an immer neuen Strukturen und schwingen mit ihnen durch den Raum – bis ins Innerste des Herzens.
TIAN ROTTEVEELhat am Koninklijk Conservatorium Den Haag (NL) Musikkomposition studiert, Tanz an der SEAD (AU) und studiert derzeit Choreografie am HZT Berlin. In seiner Arbeit ist Klang ein Prozess, der sich in Musik, in Sprache, aber auch bloß in schiere Empfindung materialisieren kann. Tian hat u.a. zusammengearbeitet mit: MAE-Ensemble, Rosa Ensemble, Igor Dobricic, Diego Gil, David Zambrano, Jeremy Wade, Lea Martini und Kristina de Châtel.
Premiere: 11. Februar 2016, Sophiensaele Berlin
Weitere Aufführungen: 12./ 13./ 14. Februar 2016
Sung-Im Her 
YOU ARE OKAY!    
im Rahmen der Tanzrecherche NRW #17                
vom 28. September bis 15. November 2015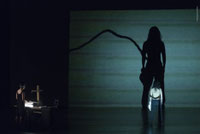 Sung-Im Her studied contemporary dance at Han-Sung University in South Korea where she achieved Master degree as. Then she moved to Belgium in 2004 for choreography studies (2nd cycle) at P.A.R.T.S. After graduation, she has been working with Jan Fabre/Troubleyn, Les ballets C de la B, Needcompany and Abattoire Ferme. In parallel since 2011, she started to develop personal work as well. "You are Okay" is her 5th collaboration work.  
Currently she is selected to be part of "testbeds catalyst co-lab", a research & development programme supported by the University of Bedfordshire, Arts Council England and Luton Culture. She is working work both with university students and the local community, teaching workshops, and researching and
choreographing a dance piece focusing on immigration and global citizenship. - www.sungimher.com
During her time at the RCA, where So-mang Lee completed a Masters degree in Communication Art and Design Somang developed a unique way of working to seamlessly blend visuals with music. She creates innovative performances combining shadow puppetry, animation and multimedia technology. These are projected onto the big screen to become a fully immersive experience. Somang have been collaborating with musicians, film and theatre makers.  - www.somanglee.co.uk
Research
During NRW tanz recherche period, she interviewed Korean immigrant workers who moved here more than 40 years ago. The question was if and how they are integrated in the society. Where is home for these people uprooted
their origins? In a world in which new generations live as global citizens these questions are particularly important. What does home mean? Is it possible to find a new home? And what does it mean to be a stranger?
Tanzrecherche NRW wird gefördert durch: NRW KULTURsekretariat Wuppertal
Lecture demonstration YOU ARE OKAY!: 14.11.2015, 17:00 Uhr - Eintritt frei 
Werner Nigg (CH)
im Rahmen einer Koproduktion mit dem NRW-Mittelzentrum Bonn                         vom 24. August bis 28. September 2015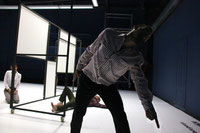 SCATTERED LUNGS ist ein Stück über die individuellen Wünsche und Vorstellungen von einer Zweisamkeit, einer Partnerschaft oder einer zwischenmenschlichen Beziehung in Zeiten von Tinder, Scruff und Elitepartner; in Zeiten der vielfältigen Optionen auf der Suche nach Wärme und Geborgenheit.
Werner Nigg, im Schweizer Kanton Graubünden aufgewachsen, folgte nach seiner Ausbildung an der landwirtschaftlichen Berufsschule seiner Tanzbegeisterung und studierte Zeitgenössischen Tanz an der ZürichTanzTheaterSchule und an der Codarts University for the Arts Rotterdam. Seit 2003 arbeitet er mit
verschiedenen Compagnien u.a. in Belgien, Österreich, den Niederlanden, Dänemark, Frankreich, so mit Daphne Verhelst, Willi Dorner, Cie Ah mon amour, Jean G. Weis, Ryckewaert & Verhelst, Mancopy, CieThor und in den letzten beiden Projekten mit CocoonDance. Seit 2002 choreografiert er eigene Stücke.
Choreografie, Idee: Werner Nigg // Performance, Tanz: Tanja Marin Friđjonsdottir // Dramaturgie: Judith Ouwens // Musik: Samuel Reissen // Kostüm: Constanza Friedrich
Premiere: 14. Oktober 2015 // 20 Uhr // Theater im Ballsaal
Weitere Vorstellungen: 15./ 17. Oktober 2015 // 20 Uhr