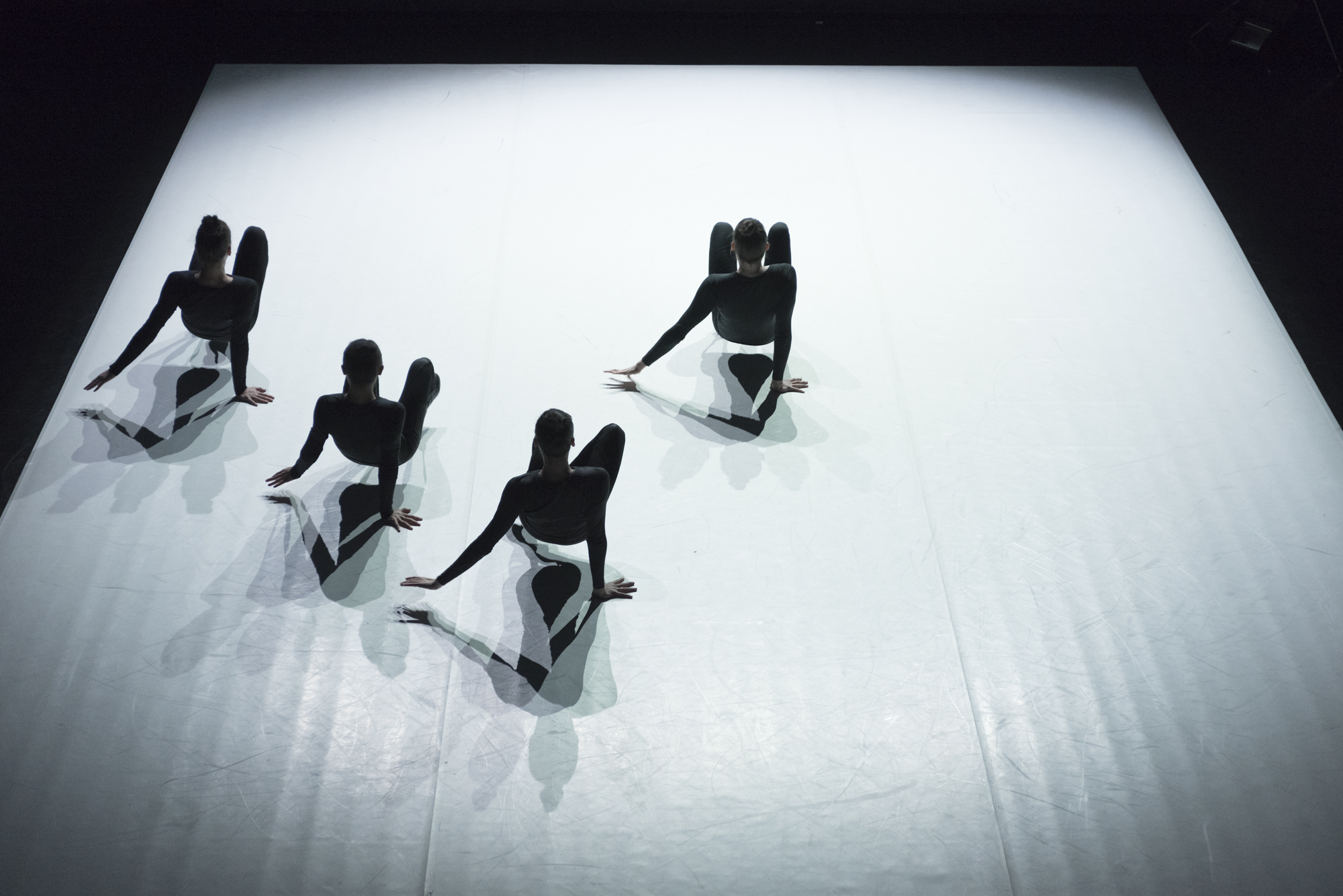 COCOONDANCE UP-TO-DATE
Presence and absence, empty spaces and in-between worlds! The CocoonDance company presents during the Beethoven Fest in Bonn the first part of its new dance production "GHOST TRIO A - corps furtifs", which is based on Beethoven's Piano Trio in D major, Op. 70 No. 1 -- the so-called "Ghost Trio".  Inspired by Samuel Beckett's "Ghost Trio", a late television play written by the author in 1975, the dancers approach the unspeakable by relentlessly using their bodies as a medium.
The performance with three dancers and a pianist is built upon specific theatre dispositive to  examine the dimensions of space, music (sound) and time in order to answer the following questions: Are you there, even if I don't  see you? If I can neither hear you nor feel you? The effects that music and cinema can conjure through editing become a challenge in the purely physical world. On stage, everything is taken off the bodies of the bodies which contributes to their identification as human beings and bodies. This leads to an exciting "hide-and-seek" game with the spectators who are looking for certainty and orientation. As soon as the audience manages to fill in the blanks, something else confusing shows up. That's the task of the ghosts!
As ghosts of the past Beethoven and Beckett are both welcomed guests, but they both appear to us in a re-interpreted way as fragments of memories. Of the trio, for example, only the pianist is visible.  The string players stay in their intermediate world - not visible, but present.
For further information  www.beethovenfest.de  
CocoonDance: GHOST TRIO A - corps furtifs
World Premiere: September 17, 2017, at 8.30 p.m.
Additional Performance: September 16, 2017, at  8.30 p.m.
Location: "Geneva Hall", World Conference Center Bonn - in conjunction with the 2017 Beethovenfest
By and with: Álvaro Esteban, Daniel Morales, Werner Nigg // Choreography, direction: Rafaële Giovanola // Dramaturgy, concept: Rainald Endraß // Live-Electronic, composition: Jörg Ritzenhoff // Piano: Beatrice Berrut // Light design: Tobias Heide // Costumes: Annika Ley // Advice: Space, light: Boris Kahnert // Choreographic Assistance: Leonardo Rodrigues // Movement research: Fa-Hsuan Chen, András Déri, Martina De Dominicis, Greta Salgado, Susanne Schneider, Marie Viennot // Management: Mechtild Tellmann
Funded by Kunststiftung NRW, Ministerium für Kultur und Wissenschaft des Landes Nordrhein-Westfalen, Bundesstadt Bonn and Théâtre-ProVS, Le Conseil de la Culture Etat du Valais, La Loterie Romande
Trailer by Michael Maurissens/ Carré Blanc Productions
3-year-residence in the Swiss canton Valais

Within a 3-year-residence, CocoonDance Company Bonn is going to show their productions, and cooperating throughout the canton with diverse groups, professionals and lay people alike, for example break dancers, parkour runners, pupils, students at the cantonal conservatory and other.
The supporters of the residence programme, Théâtre-ProValais, Le Conseil de la Culture Etat du and La Loterie Romande, want to create a strong base for the advancement of  contemporary dance in the Swiss canton Valais by awarding the residence to CocoonDance.  
CocoonDance and the Theater Osnabrück to receive federal grant "Doppelpassförderung"
CocoonDance Company is receiving funding through the grant "Doppelpassförderung" by the Federal German government and is cooperating for two years with the Theater Osnabrück. Dance Company Osnabrück and CocoonDance Bonn, together with refugees who live in Osnabrück, will go on a search for their bodily history. The focus is on the question about their respective roots - biographically as well as physically and culturally – on uprooting and the possibility to take firm root again. 
Premiere BIOGRAFIA DEL CORPO: 21 November 2015, Theater Osnabrück (Premiere) Emma Theater.
Further performances: 28.11.2015 / 06.12.2015/ 13.12.2015/ 17.12.2015/ 19.12.2015 / 29.12.2015 /20.01.2016
Cooperative project with the Gürzenich-Orchester Cologne
Infinite space! Together, the young musicians of the Jugendsinfonieorchester (youth symphonic orchestra) of the Rheinische Musikschule and the professional musicians of the Gürzenich-Orchester Cologne travel to Jupiter, Mars and Saturn. This family concert takes the audience across the universe under the guidance by newly appointed Gürzenich bandmaster François-Xavier Roth. "The Planets" by composer Gustav Holst is on the concert programme. Listeners can expect a galactic concert spectacle, in which along with the musicians, hearing-impaired pupils of the Johann-Joseph-Gronewald-Schule participate. Supported by CocoonDance Company Bonn, the pupils will create their very own approach to this composition by developing their own choreographical images to the music of Gustav Holst and thus transport the audience to another universe. Premiere, 19th June 2016, at the E-Werk, Cologne.
EDUCATIONAL PROJECTS