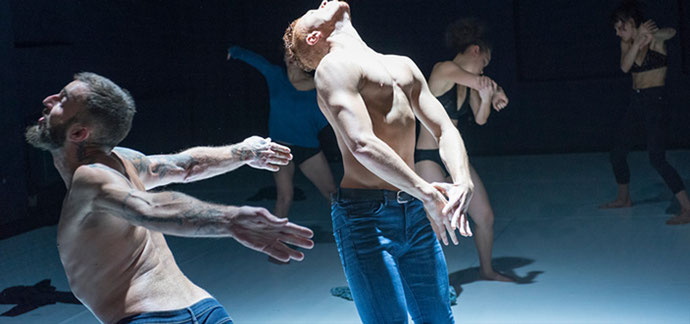 NO BODY BUT ME
Repertory 
7 performers / stage: 15m x 10m x 5m / numbers of spectators shall be limited to a maximum of 120 / duration: 0:50 h / recommended age: 12+ 
 // Premiere 19 October 2016, Théatre du Crochetan, Monthey (CH)
 German premiere 27 October 2016, Theater im Ballsaal, Bonn (D)
// Produced by CocoonDance in Co-production with Tanzplattform Rhein-Main  – ein Projekt von Hessisches Staatsballett und Künstlerhaus Mousonturm, Théâtre du Crochetan Monthey, Malévoz Quartier Culturel, theaterimballsaal
// Funded by Kunststiftung NRW, Ministerium für Familie, Kinder, Jugend, Kultur und Sport des Landes Nordrhein-Westfalen, Bundesstadt Bonn, das NATIONALE PERFORMANCE NETZ (NPN) Koproduktionsförderung Tanz aus Mitteln der Beauftragten der Bundesregierung für Kultur und Medien aufgrund eines Beschlusses des Deutschen Bundestags und Théâtre-ProVS, Le Conseil de la Culture Etat du Valais, La Loterie Romande
ABOUT THE PIECE
In NO BODY BUT ME, the CocoonDance Company makes us aware of how different media can affect our perceptions of the body by transferring cinematic effects onto the dancers' bodies.  The changing perceptions of the body lead to a new, differently constructed perspective for the spectator who, at the end of the evening, will feel as if his personal view has been altered.
Body and film – the bond between the two is indissoluble as well as fascinating. A film without bodies is difficult to imagine, because bodies are usually the focus of the camera. The camera follows them, captures them, makes them stand still and dissolves them. Sometimes, the camera moves quickly around them, zooms in and out, scans the bodies and wallows in their movements, gestures and images.
The body, on the other hand, is neither imaginable nor conceivable without the medium of film. Images can only be perceived through a body, whereas we need images to perceive our own bodies. In so doing, images address the recipients' body directly and inscribe themselves directly onto physical perceptions.  We are using images to practice body self-awareness as well as to relinquish our own bodies.  
// By and with: Fa-Hsuan Chen, Martina De Dominicis, Alvaro Esteban, Werner Nigg, Inma Rubio, Susanne Schneider, Brice Taupin // Choreography, direction: Rafaële Giovanola // Music, sounds: Jörg Ritzenhoff // Collobaration sonorous: Franco Mento // Light design: Marc Brodeur // Costume: Kristelle Paré // Assistance: Leonardo Rodrigues Santos // Outside eye: Roberto Serafide // Video workshop: Cédric Raccio // Dramaturgy, concept: Rainald Endraß
PRESS CLIPPINGS
"Imagine a film without a camera. The view is shifting back and forth between men and women who are moving closer or are moving away.  But instead of a movie we're watching real people of flesh and blood who show us in a subtle way how to catch our eyes and create attraction by drawing our attention and again withdrawing from it. "No Body But Me" is a tremendously artful study of our media consumption and viewing behaviour. At the same time, Bonn's CocoonDance Company  does not shy away from effectively staging and unfolding the erotic potential of dance." (Thomas Linden, late night review, tanzweb.org, 28.10.2016)
"'No Body But Me' is a very intelligent continuation of the experiments on perception already undertaken by CocoonDance in earlier productions like "What About Orfeo" or "Momentum". What's happening on the stage of the ballroom is, so to speak, a contemplation through the body.  And for this work, choreographer Giovanola has - with dancers Fa-Hsuan, Martina De Dominicis, Álvaro Esteban, Werner Nigg, Inma Rubio, Susanne Schneider and Brice Taupin- an excellent ensemble to work with." (Bernhard Hartmann, General-Anzeiger, Bonn, 27.10.2016)
"Repetition and the play with the eye contact, holding and losing it, closeness and distance, (become) a strange mixture which grabs your attention almost consistently, although it actually only means nothing more than: People look at people. But how! ... A cool arrangement that generates heat." (Melanie Suchy, Kölner Stadtanzeiger, 05.11.2016)
"... a strange and not easily accessible piece: a choreography as a reflection on how we perceive our bodies."  
(Stefan Benz, Darmstädter Echo, 25.11.2016)
"CocoonDance has shown for quite some time a certain weakness for the prefix "post". Giovanola and her dramaturge Rainald Endraß have repeatedly transformed the "post-narrative postmodernism" theory of Foucault & Co into practice and accomplished forms of dance. This time, we apparently deal with "post-pornography". So, this isn't really obscene, but critically reflected obscene. A very clever performance about our complicated relationship with sex, shame and voyeurism. Totally post-porn." (Nicole Strecker, tanz, Dezember 2016)
"The beginning of 'No Body But Me' is as puristic as the entire performance presented in the Theater im Ballsaal. Rafaele Giovanola and Rainald Endraß of CocoonDance are serious. From an aesthetic point of view, their new production is consistently designed, from the first to the last scene. The dramaturgy of this new production is remarkable and full of virtuoso suppleness and countless change of scenes. Seven dancers, three men and four women, are entering the stage.  The choreography of 'No Body But Me' does not tell a story and the seven (dancers) never interact with each other.  There are no couples, everybody is acting on their own, for themselves and/or the audience, as they remain obliged to the central perspective of the stage design. Everything happens for our viewing. The movements of the dancers are always directed in frontal address to the audience.  As if there were just two eyes or a camera watching. What we see might be a film without a camera, consisting of only bodies - the substance that defines reality. We are being conceived here. It shows us the underlying intention and refinement of this seemingly simple production that reflects our voyeuristic desires, without which there would be no performing arts after all. … Ultimately, you will be rewarded with an incredibly sophisticated production, which, in a subtle way,  confronts us with the treacherous intentions behind our own gaze."  
(Thomas Linden, late night review, tanzweb.org, 29.10.2016)
"Repetition and the play with the eye contact, holding and losing it, closeness and distance, (become) a strange mixture which grabs your attention almost consistently, although it actually only means nothing more than: People look at people. But how! ... A cool arrangement that generates heat." (Melanie Suchy, Kölner Stadtanzeiger, 05.11.2016)
"... a strange and not easily accessible piece: a choreography as a reflection on how we perceive our bodies."  
(Stefan Benz, Darmstädter Echo, 25.11.2016)
"CocoonDance has shown for quite some time a certain weakness for the prefix "post".  Giovanola and her dramaturge Rainald Endraß have repeatedly transformed the "post-narrative postmodernism" theory of Foucault & Co into practice and accomplished forms of dance. This time, we apparently deal with "post-pornography". So, this isn't really obscene, but critically reflected obscene.  A very clever performance about our complicated relationship with sex, shame and voyeurism. Totally post-porn." (Nicole Strecker, tanz, Dezember 2016)